News and Events
Political Violence and Pathways to Peace in Latin America Lecture Series
This series of 3 public lectures features experts on political violence and strategies for the guarantee of human rights and peacebuilding in Latin America and in the U.S.-Mexico Borderlands. The talks all give accounts of the implications of political violence, the connections between the long- term effects of war to the migrant crises of today, and ways in which local communities organize and respond to efforts for justice and peace.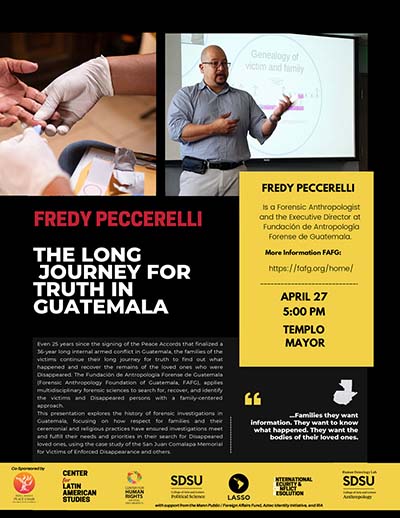 Freddy Peccerelli (Forensic Anthropologist and the Executive Director at Fundación de Antropología Forense de Guatemala)
Wednesday, April 27, 2022
5 PM
in Templo Mayor
The Long Journey for Truth in Guatemala
Even 25 years since the signing of the Peace Accords that finalized a 36-year long internal armed conflict in Guatemala, the families of the victims continue their long journey for truth to find out what happened and recover the remains of the loved ones who were Disappeared. The Fundación de Antropología Forense de Guatemala (Forensic Anthropology Foundation of Guatemala, FAFG), applies multidisciplinary forensic sciences to search for, recover, and identify the victims and Disappeared persons with a family-centered approach.
This presentation explores the history of forensic investigations in Guatemala, focusing on how respect for families and their ceremonial and religious practices have ensured investigations meet and fulfill their needs and priorities in their search for Disappeared loved ones, using the case study of the San Juan Comalapa Memorial for Victims of Enforced Disappearance and others.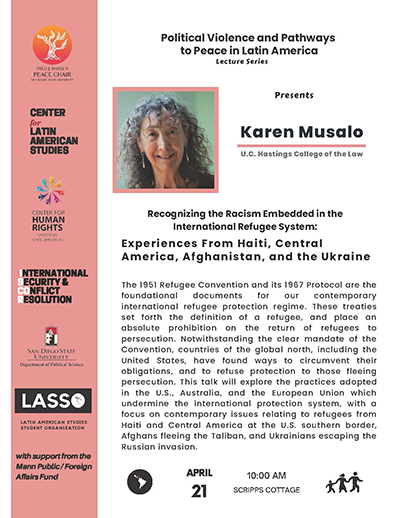 Karen Musalo, Ph.D. (U.C. Hastings College of the Law)
Thursday, April 21, 2022
10 AM
at Scripps Cottage
Recognizing the Racism Embedded in the International Refugee System: Experiences From Haiti, Central America, Afghanistan, and the Ukraine
The 1951 Refugee Convention and its 1967 Protocol are the foundational documents for our contemporary international refugee protection regime. These treaties set forth the definition of a refugee, and place an absolute prohibition on the return of refugees to persecution. Not withstanding the clear mandate of the Convention, countries of the global north, including the United States, have found ways to circumvent their obligations, and to refuse protection to those fleeing persecution. This talk will explore the practices adopted in the U.S., Australia, and the European Union which undermine the international protection system, with a focus on contemporary issues relating to refugees from Haiti and Central America at the U.S. southern border, Afghans fleeing the Taliban, and Ukrainians escaping the Russian invasion.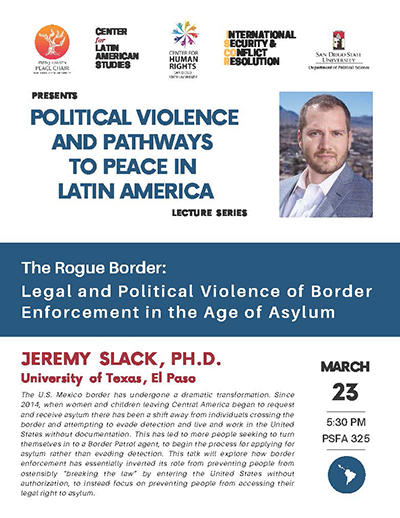 Jeremy Slack, Ph.D. (University of Texas, El Paso)
Wednesday, March 23, 2022
5:30 PM
in PSFA 325
The Rogue Border: Legal and Political Violence of Border Enforcement in the Age of Asylum
The U.S. Mexico border has undergone a dramatic transformation. Since 2014, when women and children leaving Central America began to request and receive asylum there has been a shift away from individuals crossing the border and attempting to evade detection and live and work in the United States without documentation. This has led to more people seeking to turn themselves in to a Border Patrol agent, to begin the process for applying for asylum rather than evading detection. This talk will explore how border enforcement has essentially inverted its role from preventing people from ostensibly "breaking the law" by entering the United States without authorization, to instead focus on preventing people from accessing their legal right to asylum.
Sponsored by The Fred J. Hansen Peace Chair and Center for Human Rights, with support from the Center for Latin American Studies, ISCOR, and Department of Political Science


Teach in: Perspectives on the Russian War on Ukraine
Wednesday, April 20, 2022
1 PM
in West Commons 220
The in-person event will feature a variety of perspectives on the on-going war in Ukraine, represented by a panel including myself and SDSU Professors Mikhail Alexseev, Jonathan Graubart, and Emanuele Saccarelli, as well as Professor Volodymyr Dubovyk of Odesa Mechnykov National University who will join us virtually from Ukraine.
Sponsored by ISCOR and the Department of Political Science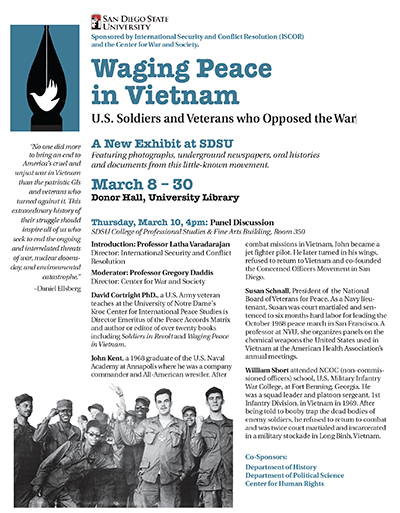 Waging Peace in Vietnam: U.S. Soldiers and Veterans who Opposed the War
A National Endowment for the Humanities "Dialogues of War" Workshop Series
A New Exhibit at SDSU
March 8-30
Donor Hall, University Library
Featuring photographs, underground newspapers, oral histories and documents from this little-known movement.
Panel Discussion
Thursday, March 10, 4 pm
Professional Studies & Fine Arts (PSFA) Building, Room 350
Introduction: Professor Latha Varadarajan
Director: International Security and Conflict Resolution
Moderator: Professor Gregory Daddis
Director: Center for War and Society
David Cortright Ph.D., a U.S. Army veteran teaches at the University of Notre Dame's Kroc Center for International Peace Studies is Director Emeritus of the Peace Accords Matrix and author or editor of over twenty books including Soldiers in Revolt and Waging Peace in Vietnam.
John Kent, a 1968 graduate of the U.S. Naval Academy at Annapolis where he was a company commander and All-American wrestler. After combat missions in Vietnam, John became a jet fighter pilot. He later turned in his wings, refused to return to Vietnam and co-founded the Concerned Officers Movement in San Diego.
Susan Schnall, President of the National Board of Veterans for Peace. As a Navy lieutenant, Susan was court martialed and sentenced to six months hard labor for leading the October 1968 peace march in San Francisco. A professor at NYU, she organizes panels on the chemical weapons the United States used in Vietnam at the American Health Association's annual meetings.
William Short attended NCOC (non-commissioned officers) school, U.S. Military Infantry War College, at Fort Benning, Georgia. He was a squad leader and platoon sergeant, 1st Infantry Division, in Vietnam in 1969. After being told to booby trap the dead bodies of enemy soldiers, he refused to return to combat and was twice court martialed and incarcerated in a military stockade in Long Binh, Vietnam.
Sponsored by International Security and Conflict Resolution (ISCOR), Center for War and Society, Department of History, Department of Political Science, and Center for Human Rights.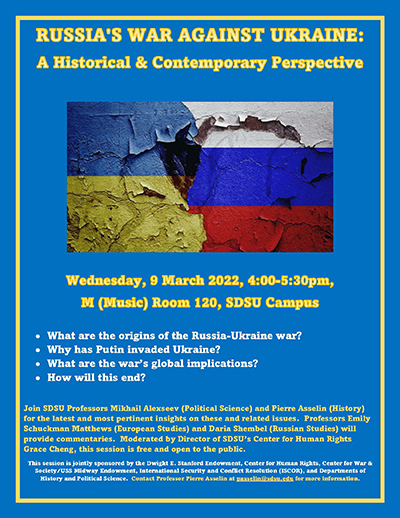 Russia's War Against Ukraine: A Historical and Contemporary Perspective
Wednesday, 9 March 2022, 4-5:30pm
Music, Room 120, SDSU Campus
Free and open to the public.
What are the origins of the Russia-Ukraine war?
Why has Putin invaded Ukraine?
What is the war's global implications?
How will this end?
Join SDSU Professors Mikhail Alexseev (Political Science) and Pierre Asselin (History) for the latest and most pertinent insights on these and related issues. Professors Emily Schuckman Matthews (European Studies) and Daria Shembel (Russian Studies) will provide commentaries. Moderated by Director of SDSU's Center for Human Rights Grace Cheng.
Sponsored by the Dwight E. Stanford Endowment, Center for Human Rights, Center for War & Society/USS Midway Endowment, International Security and Conflict Resolution (ISCOR), and Departments of History and Political Science.
Contact Professor Pierre Asselin at [email protected] for more information.
The David H. Johns Memorial Scholarship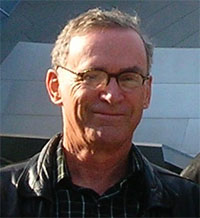 ISCOR is proud to announce the establishment of the annual David H. Johns memorial scholarship. Prof. Johns was one of the founders of ISCOR, and his vision has been key in making it the thriving multi-disciplinary center it is today. Given his contributions in teaching and advising during his many decades at SDSU, and constant support for the program after attaining the status of emeritus faculty, we are honored to have an annual scholarship in in his name recognizing an ISCOR student who shows great potential.
Application Eligibility and Criteria:
Recipient must be students pursuing a major in International Security and Conflict Resolution.
All class levels are eligible
Recipients must have a minimum overall GPA of 2.50 out of 4.00, or the arithmetic equivalent
Recipients must be enrolled full-time
Scholarships may be renewed.
The Office of Financial Aid and Scholarships will be launching a new application portal in Spring 2020 (scholarship applications for 2020-2021 will be available). More information will be available on
the Office of Financial Aid and Scholarships
website as we approach the launch.
Archives
Terrorism and Counter-Terrorism in the Post 9/11 World
Wednesday, November 17, 2021
5:00 p.m.
Join us for a conversation on the historical trajectory of terrorism and counter-terrorism strategies in the two decades since 9/11 and the declaration of the "War on Terror."
Featuring: Professor Emeritus, Dipak Gupta
Professor Gupta is the former director of theISCOR program and a renowned global authority on terrorism. He is the author of numerous books and articles, including most recently "Understanding Terrorism and Political Violence."
Moderated by: Professor Jonathan Graubart
Co-sponsored by the ISCOR Student Society and the Department of Political Science.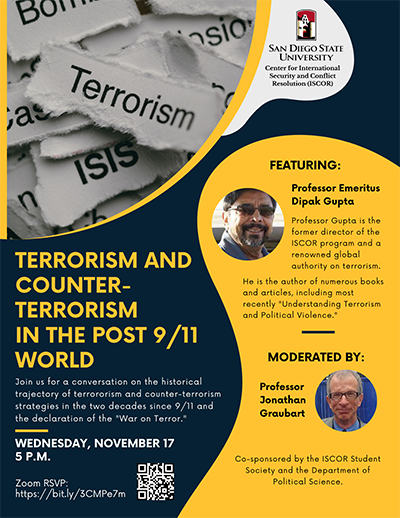 Reflecting on the Legacies of 9/11
Thursday, Sept. 9, 2021
4 p.m.
Featured Panelists:
Moderated By:
Professor Gregory Daddis, Department of History
Professor Latha Varadarajan, Director, International Security and Conflict Resolution (ISCOR)
Presented by ISCOR and the Department of History and co-sponsored by the College of Arts and Letters
Panel Discussion: Academic Freedom - Perspectives of U.S. and International Scholars
Monday, March 2, 2020 at 7 PM
International Student Center (part of the SDSU Passport Office)
Refreshments will be provided.
Academic freedom is the indispensable requisite for unfettered teaching and research in institutions of higher education.
"The common good depends upon the free search for truth and its free exposition"
--1940 Statement of Principles on Academic Freedom and Tenure, American Association of University Professors
Academic freedom is threatened in the U.S. and internationally. In 2019, the Scholars at Risk Network reported 324 attacks on higher education communities in 56 countries (www.scholarsatrisk.org). Panelists from SDSU are joined by two Visiting Scholars at Risk, who are teaching at UCSD and SDSU.
Sponsored by Senate Freedom of Expression Committee, Institute for Ethics and Public Affairs, Interdisciplinary Human Rights Initiative, International Security and Conflict Resolution, and International Student Center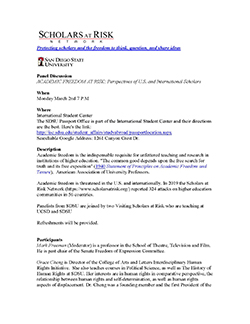 Additional rows continue using this layout.
Asylum After Empire: Colonial Legacies in the Politics of Asylum Seeking
March 5, 2020 at 12:30-1:45 PM
Alan and Debbie Gold Auditorium, Donald P. Shiley BioScience Center
Lucy Mayblin: Senior Lecturer in Sociology, University of Sheffield
Asylum seekers are not welcome in Europe. But why is that the case? For many scholars, the policies have become more restrictive over recent decades because the asylum seekers have changed. This talk, based on Mayblin's book Asylum After Empire, draws on theoretical insights from Third World Approaches to International Law, post- and decolonial studies, and presents archival research on the colonial context to the Geneva Convention negotiations. Policies which address asylum seekers must, the book argues, be understood not only as part of a global hypermobile present, but within the context of colonial histories.
Part of the Imagine Europe Series. Presented by the Center for European Studies.
Sponsored by the European Studies Dept, European Studies Program, Italian Program, ISCOR, Dept of Philosophy, Dept of Sociology, Dept of Political Science and made possible by an IRA award from the College of Arts and Letters.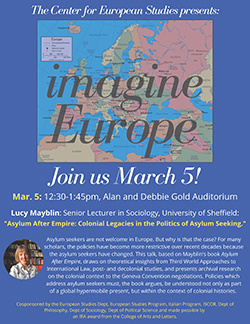 Meeting with the Palestinian Presidential Guard
Professor Jonathan Graubart, Director of the International Security and Conflict Resolution Program at SDSU, welcomed the Palestinian Presidential Guard delegation on May 9, 2019.